Canada's Luckiest Baby is here with an amazing $50,000 prize bundle that will change the life of one lucky baby and their family.
What's got everyone so excited?
Let's talk about why we're all here—the PRIZES!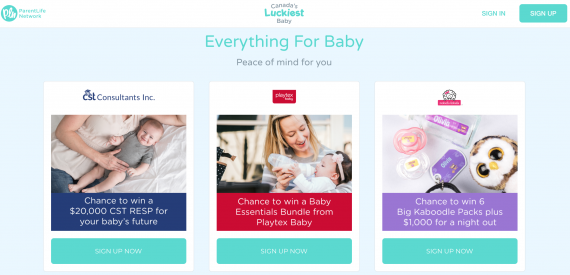 CST is back for another year, ensuring that you will have the opportunity to give your winning child the education of their dreams, thanks to a $20,000 CST RESP. Other returning favourites include our friends at Playtex® Baby, who have you covered from feeding time to taming stinky diaper smells with a vast bundle of goodies. There's also Mabel's Labels, who are hooking you up again with the best labels around AND a fun night out.
We've got some brand new prizes we're excited to give away as well. Keep you baby fed all year long with delicious delivered meals from MissFresh and a year of pizza (and a camera – don't eat that!) from Dr. Oetker. Once they're full from all that food, tuck them into bed in their newly decorated baby room, furnished with $1,000 from H&R Block.
And Mom and Dad, you'll never have to worry again about keeping your baby happy and healthy. Vicks wants to give you a $1,500 Pharmacy Gift Card so you don't have to stress about getting them any medicine they might need. Then, deck them out in all the coolest clothes thanks to a $1,500 shopping spree from Reshopper. Finally, there's The Source, offering up a $1,000 Gift Card, to keep you and the baby entertained with all the latest electronics.
Now that you've seen these incredible prizes, you must be asking, "How do I win them all?" Well, here's our step-by-step guide on how to make sure you don't miss out on anything.
Sign up or sign in
The only way to win is to enter, so what are you waiting for? Head on over to Canada's Luckiest Baby to sign up or sign in. If you have never entered before, create an account (it's super easy). If you already have an account, simply sign in and get going! Forgot your password from last time? Don't worry, we have you covered with our reset my password button.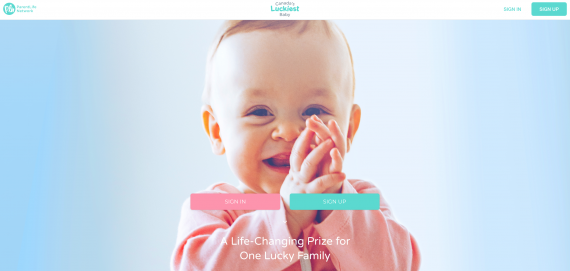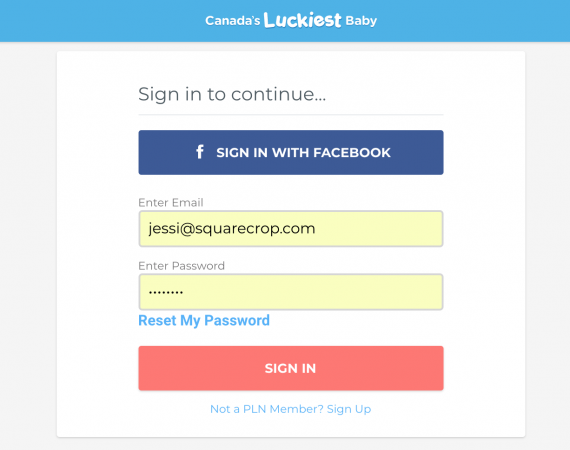 Start adding prizes
Prizes will come up one at a time. Simply opt-in to them, add the prize, and move on—it's really that easy! If you want to win them all, you have to opt-in to them all. We work tirelessly to add more partners to CLB and the grand prize keeps on growing (just like our kids). If the winner of CLB does not opt-in to all of the prizes, we will draw additional winners for the remaining prizes. The prizes have to be given out, and it's up to you to claim them all!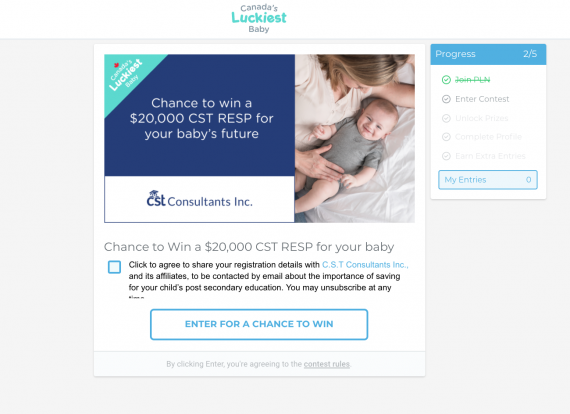 Help us get to know you
Tell us a little bit about yourself by filling in or updating your profile. We only ask for your full name, postal code, and baby's due date or birth year so that we can send you tailored emails with special offers. We may even ask you for additional information if you qualify for anything extra special. You can skip at any time if you don't want to share (we won't get mad, promise).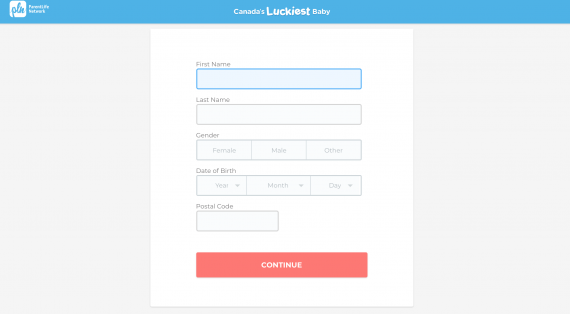 Extra entries are the key
You want your name on as many ballots as possible for when it comes time to draw that one lucky CLB winner. We want to make getting those extra entries as easy as possible for you. Just keep doing fun stuff like following us on Instagram, Facebook, Twitter, Pinterest, and reading our blog. Take the surveys, check out our special offers, get some sage advice from fellow parents on our parenting resource site PLN Answers or join our online deals and savings group on Facebook, where we find you the best deals. Engaging with as many different parts of our community as you can will add up to give you a better chance at winning CLB. You can always find ways to earn these extra entries conveniently in your feed so check in often. Put it in your planner, write a note, set a reminder on your phone; however you do it, come back regularly to check-in so that you don't miss out.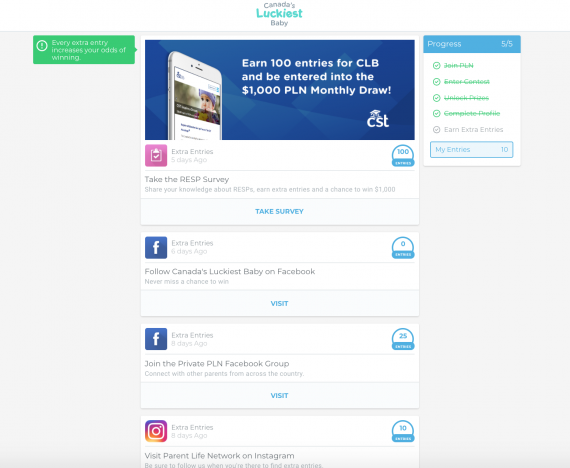 Find those secret codes
The codes could be hiding anywhere and everywhere, in an email or maybe on a Facebook photo, but you'll have to find them, just like that new toy your little one already lost. Once you have a new code, head on over to our Entry Codes Page to claim it. Scared you may have missed a few? Don't worry about it. There are some really amazing PLN members who will share their knowledge on our PLN Facebook group.
Any questions?
Now that we have given you the rundown of Canada's Luckiest Baby, head on over and enter. If you have any questions, you can check out our FAQ page for more common questions, or email us anytime at contact@parentlifenetwork.com. We're always here to help.
Are you ready to change your baby's life?