If you are an expectant mom that is trying to pick the perfect diaper bag, allow me to offer you a piece of advice: think long term. You may not realize this now but this bag is one you will be carrying for years to come.
Diaper bags are not just for schlepping around baby items. They can certainly be used as your baby grows to toddler and older. So when picking a diaper bag, think about how you might use it beyond the baby years. Believe me, I wish I had! And don't worry, the selection out there is pretty good. More and more parents are able to find versatile yet stylish bags that both mom and dad will want to carry!
I didn't know much about diaper bags when I was first expecting six years ago and my husband knew even less. All he asked was that I didn't pick anything too feminine because he didn't want to be embarrassed carrying it around. The bag we settled on proved not to be big enough when baby number two came along, so we had to go shopping again. Eventually, we found a bag to suit our needs, or so we thought.
As my kids grow, we do still occasionally use our bag but have found that it can be bulky and tricky to pack items for older children. I really wish we would have originally selected a bag to take us through all the stages—from infant to toddler to school-aged kids.
I have been considering getting yet another bag. Hey, maybe the third time's the charm? There are some awesome choices out there; ones that I consider perfect transitional bags for parents to use. They have features that certainly cater to the baby stage, but can easily provide the function and convenience you require for toddlers and older kids.
If you're looking for a bag that offers plenty of space then these two bags from Hap Tim are great choices! This charcoal grey backpack offers high quality, waterproof material and a large capacity of storage space with 17 pockets to give you plenty of organizing options. This light grey bag doubles as a backpack and a tote bag! It's made of strong and durable fabric and also has lots of space with 13 pockets.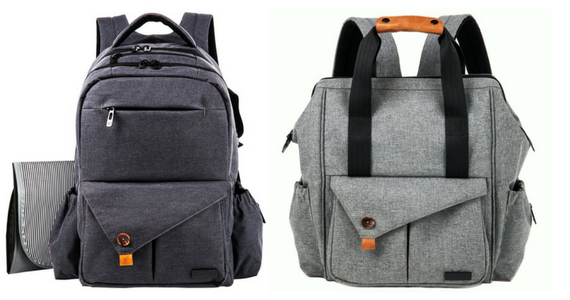 I really like the unique look of this multifunctional bag from Lekebaby. The bag can be carried as a tote or a backpack. Its wide-open design makes it simple to pack what you need and easily locate your items.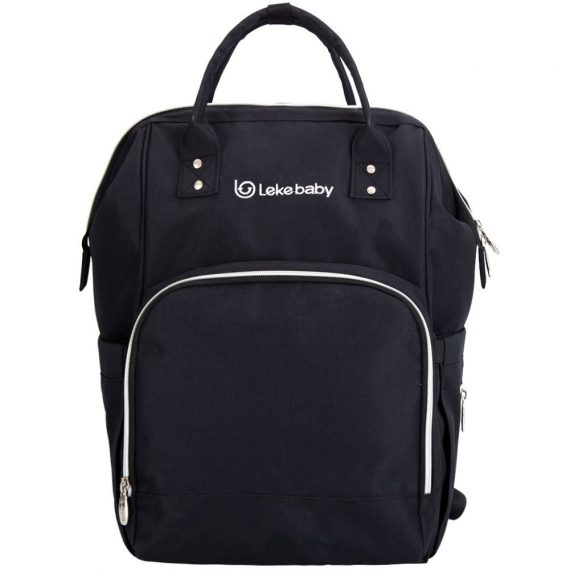 This Skip Hop satchel is a perfect compromise for a mom who wants something a little more on the chic side, but not too feminine for dad to carry. It is black faux-leather with gold hardware and very spacious with 12 pockets. It can be carried by hand or worn with a cross-body strap.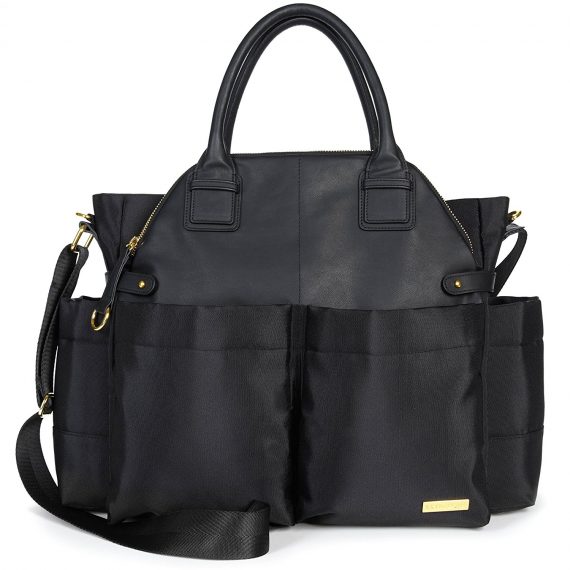 What I love about these four options is that they come with everything you need for baby—change pads, stroller straps, insulated sections for bottles and plenty of space with pockets to organize your bag they way it suits your needs. But as your child grows the change pads and stroller straps can be put away, the insulated pouches can be used to store juice boxes and snacks and the other pockets can carry a variety of items—from toys or books to tablets or laptops. These bags are so versatile, they can go from a day out with baby to a travel bag parents can use for a weekend getaway (if and when they are so lucky to get one).
Now the options I've mentioned are ones that I felt were very affordable for the quality and fit many parents' budgets, but if I really wanted to splurge I'd go for this gorgeous timi & leslie seven-piece set. I especially love the teal colour, but also think the black with brown accents add a touch of sophistication. This bag is made from vegan faux leather, is easy to clean, has plenty of space for storage and has a detachable cross-body strap. It comes with an insulated bottle tote, stroller straps, change pad with pocket for diapers and wipes, a zippered sac to carry soiled clothes and a cute little clutch that can be used as a purse with a wrist strap (phew, say that three times fast). They really thought of everything a parent could need with this set! It definitely would make a great transitional bag!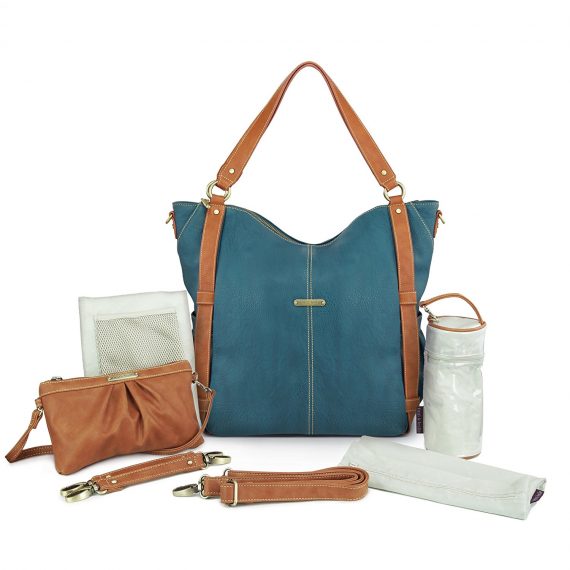 So if you are first-time parents or just in the market for a new diaper bag, I assure you there are plenty of options out there that will make both parents happy, provide the space and convenience you require when you're on-the-go and be able to take you through every stage of parenthood. Check them out and let us know what you think.
The Parent Life Network is a participant in the Amazon Services LLC Associates Program, an affiliate advertising program designed to provide a means for sites to earn advertising fees by advertising and linking to amazon.ca. We only recommend products we actually like—how else would we sleep at night? When you purchase through our links, you're helping support our awesome free content, at no extra cost to you.