Let's face it. We learned things like the Pythagorean theorem in school, but many of us never learned anything about managing money. In a recent study, 6 out of 10 Canadians failed a basic financial literacy test. Gulp.
Teaching our children about finances early on will help give them the head start we wish we had. We found these age-based tips to help you put your money where your mouth is and start talking dollars and cents with your kids.
Ages 2-3:
Open up an imaginary shop in your living room and "play store." Use plastic fruit, cereal boxes or other household items and exchange them for pretend money. Your toddler will be introduced to the basics of commerce and exchanging money for goods.
While it's a little early to learn denominations, you can start teaching them to identify and name coins. Try tracing different coins on a piece of paper and having your little one match coins with the images. Just make sure they don't swallow them!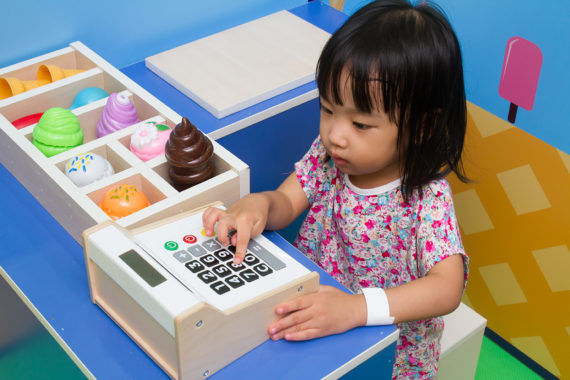 Ages 4-5:
Get your child a savings jar to introduce the concept of saving. Reward good behaviour with coins once in a while and encourage them to put them in there to watch their savings grow. Swap the coins out for the equivalent amount in bills periodically. This helps your child understand the value of different denominations. It also builds excitement and pride in their stash.
Clip coupons with your child. Then, bring them to the grocery store and have them be on the lookout for specific sale items. You can talk about how the coupons will save you money, and they'll feel like special helpers while you're at it.
Ages 6-10:
This is often a great time to introduce a weekly allowance in exchange for completing tasks that contribute to the household. Teaching your child the concept of earning early will help them prepare for the reality that most of us have to work to pay for pretty much everything we want to own or do. Saving up for a big ticket item like a new bike will help them understand the difference between short-term and long-term goals.
It's also time to give them somewhere to put their allowance. Time for a trip to the bank! Help your child open a savings account, and encourage them to make deposits on the regular. The CIBC Advantage® for Youth account offers no monthly-fee and unlimited transactions1. A great place to plant their savings seed. As their balance grows, you can talk about the concept of interest and the benefits of keeping your money in the bank.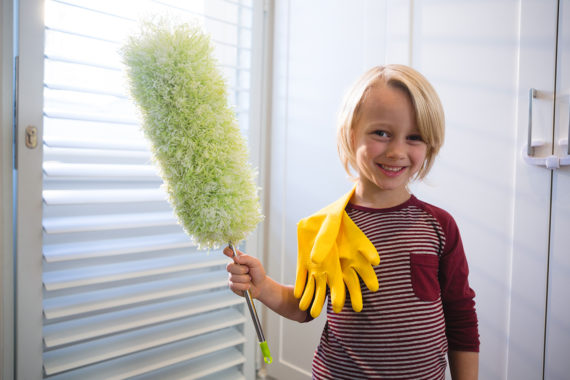 Ages 10-13:
Your tween will probably want to spend more time with their friends than you. With this new independence, comes new responsibilities. Lay out certain items they'll have to pay for in preparation for high school (i.e. their first day outfit or fees for an after school activity). Help them create a budget by discussing wants vs. needs. Encourage them to earn money through small jobs like babysitting or cutting the neighbour's lawn.
Allow small loans for certain purchases. This will help your child learn about debt and how to get out of it. This is also a time to switch their cash allowances to electronic transfers into their bank account so they can start to learn how banking works.
Ages 14-16:
Allow greater autonomy by giving your teen access to their online banking account (joint with you of course, so you can continue monitoring it). Teach them how to write a cheque and send an e-Transfer etc. Consider giving them their own debit card, but hold off on a credit card. Discuss ways to safeguard their personal information, since teens can be susceptible to scams.
If your teen gets a part-time job, it may be time to drop the allowance, or adjust it accordingly. This is a good time to teach them about credit, and how good credit will be necessary to accomplish their future goals like buying a car or renting an apartment. It's also time to start the conversation about who will be paying for post-secondary education.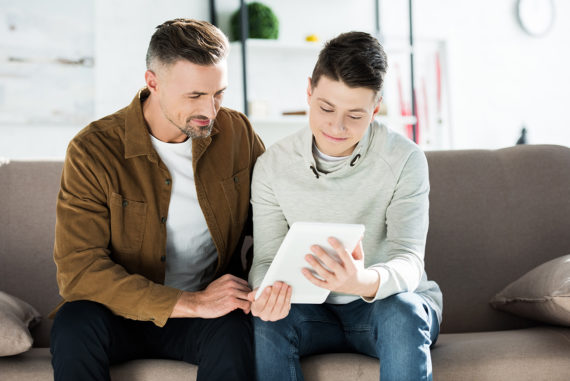 Age 16 and up:
When tax time comes around, help your teen fill out their first return. It's an empowering milestone that makes them feel like an official "adult." Walking them through the process will help them in future years.
Encourage your teen to research and apply for applicable scholarships, to help cover tuition and other post-secondary costs. If your teen doesn't work during the school year, a summer job can offer valuable career insights and add to their savings.
When you think your teen is ready for the responsibility of a credit card, consider adding them to your own card as a secondary account holder. Using CIBC CreditSmart tools, you can monitor spending and set up alerts to notify you when your child is approaching the budget you set.

1 A transaction includes cheques, withdrawals, transfers, pre-authorized payments, bill payments (including CIBC Credit Cards and CIBC Personal Lines of Credit) and debit purchases.. For all accounts, transfers to CIBC-branded loans (excluding CIBC Personal Lines of Credit), mortgages and investments (registered and non-registered) are free. "CIBC-branded" means any brand that has CIBC in its name and is offered by CIBC or its Canadian affiliates (and does not include CIBC Bank USA). Other fees (in addition to any transaction fee) include: withdrawals from non-CIBC bank machines (rebated for CIBC Smart Plus Accounts except the 2.5% administration fee on the converted amount of foreign currency ATM withdrawals), wire payments, Interac e-Transfer transactions (the Interac e-Transfer fee is waived for CIBC Smart Accounts, CIBC Smart Plus Accounts and for clients who are enrolled in CIBC Advantage for Youth, CIBC Smart for Students, CIBC Smart for Seniors (on the CIBC Smart Account) and CIBC Advantage for Students (on the CIBC Everyday Chequing Account)) and transactions in foreign currency (including cheques written in currencies other than the account currency).