Maybe it's just the baby kicking, but maybe those are flutters of nervousness. Do you have everything ready? Don't panic. We're here to help.
First of all, you probably need a lot less than you think.  And by the way – the shops don't close once your baby is born.  Not sure you're going to need a particular item?  Wait and see if you find yourself saying "actually, a tiny, specialized pacifier sterilizer would be very useful right now." We've taken a two-fold approach to the Newborn Essentials Checklist: the first fold is a bare bones list – the truly necessary. The other is "stuff think about" – handy extras that can definitely make things easier on you, if you're so inclined.
But don't take our word for it. We asked our favourite 10,000+ parents (PLN members!) what they thought were the 10 most important baby items for a new parent have.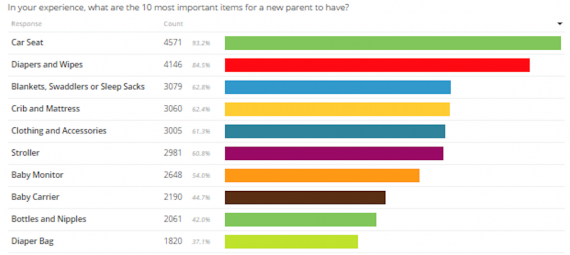 Nine Things You Will Need Before Baby Arrives
Car Seat
This outranked even diapers! If you have a car, a carseat is legally required for your new baby, and it has to be age- and weight-appropriate and not past the manufacturer's expiry date. Some car seats make up part of a "travel system" – your baby will outgrow the "bucket seat" around a year old, but many parents like that the bucket seat can be taken in and out of the car with baby inside, as well as clipped on to strollers. There are also all-in-one car seats that transition as your baby grows (for example, from a rear-facing infant seat through to a forward-facing booster seat), but those stay bolted into the car. Read lots of reviews and compare prices to make sure you make the right choice.
Diapers/Wipes
You might be trying to decide between disposable and cloth. Here's a page that compares the two. If cloth appeals to you but seems intimidating, you can always start out with disposable and introduce cloth later, once you get a routine going. If disposables are your more your style, don't worry about gathering a huge stockpile before your baby is born; you may find she/he outgrows the smaller sizes quickly, or you may find a certain brand doesn't work well for you. Try a pack each of two or three different brands of newborn and size 1, and go for sensitive/fragrance-free wipes for the early days. Tip: big box stores often take boxes of diapers back no questions asked, but buy and sell groups are a great place to trade diapers if you can't return them!
Clothes
No need to go crazy.  Think about the season and choose sparingly.  Your baby will probably grow surprisingly quickly and you don't really know what others might get you along the way.  People love to give small sizes as gifts, so if you've got a baby shower coming, hold back on purchasing those yourself. And if you find you need more later, you can get it then or send a grandparent to go shopping – they'll love it!  A few footie pjs, a few onesies (a mixture of short sleeve and long sleeve), a couple pairs of pants, socks, and a hat.  A sweater is a good idea too, but blankets serve many purposes for the first few months! Second-hand baby clothes are a great way to save money – you can often find people practically giving them away. Check garage sales, Kijiji, and Facebook for local buy and sell groups.
Tip: big box stores often take boxes of diapers back no questions asked, but buy and sell groups are a great place to trade diapers if you can't return them!
Somewhere for baby to sleep
You don't need to buy a crib straight away unless you know you want your babe in one from day one.  A lot of babies start in a bassinet or pack 'n play since experts recommend that your baby sleep in the same room as you to start.  Sleeping arrangements may not work out quite how you plan, anyway – as long as your baby is sleeping safely (tips here), they don't need a fancy matching bedding set.
Blanket(s)
It isn't recommended that you allow your newborn sleep with a loose blanket.  That being said, the right blanket is useful in so many ways – as a car seat cover to protect baby from the weather, as a swaddle, a burp cloth, or an emergency change mat or play area to lay them down quickly.  We found large, square, lightweight cotton/muslin blankets the most useful.  In the winter, it is also helpful to have a bit of a thicker one to place on top of your babe in the car seat if you don't have a car seat cover.  And smaller flannel receiving blankets are always good for keeping spit-up contained.
Change Mat
You can use an old towel if you need to, but it's nice to have something waterproof during diaper changes.  If you don't like to idea of changing your baby on the floor, you can buy a change table.  Sometimes people worry that babies can fall off, especially when they start to move. Look for a contoured change pad, maybe with safety straps, to help avoid this.
Stroller
Different strollers suit different lifestyles – and different budgets. A fully reclining seat will be important in the early days. If you plan on doing a lot of driving and then walking (mall trips, for example), a travel system is convenient for transferring baby from the car to the stroller. If you plan on a lot of rural outdoor walking, look for an all-terrain model.
Monitor
Unless you plan on always being in the room or nearby while your baby sleeps, you'll probably want one of these. Fancier kinds have a video display, but the old-fashioned walkie-talkie style works fine, too.
First Aid Kit
You can buy a ready-made kit or build one yourself with the essentials. An ear thermometer is a great investment, but a standard one used under the arm is also fine. You will also need things like baby nail clippers, cotton swabs, medicine droppers and baby Tylenol, saline nose spray or drops, and a bulb aspirator or a snot sucker (like this one).
Stuff to Think About
Bouncing chair/swing/activity mat
Some babies loves these; they are fabulous for those moments you need both arms.  It's hard to know ahead of time if your baby will like them.  Maybe wait and borrow one from a friend to try, or buy one second-hand to reduce the cost.
If you're breastfeeding:
Breast pads (reusable and/or disposable), nursing bras, pump (manual or automatic depending on how much pumping you're doing), breastfeeding cover, nursing pillow
If you're formula feeding:
Formula, bottles, sterilizer
Soothers
If you decide to try a soother, look for one designed to prevent nipple confusion.
Exersaucer/Jolly Jumper
Great for older babies, starting around 4-6 months.
Sleepsack
So helpful in the winter months and when your babe is too little for blankets or isn't good at pulling them on themselves
Baby bathtub/bath seat, bath towels, baby soap
I mean, clearly, you're going to need to wash your baby once in a while. These products will definitely make it easier!
Baby Carrier/Wrap
My first lived in a baby carrier. It's hard to find the right one until you try at least one or two out (and, of course, what works when your babe is very little won't be the same one that works when they are older). This is another maybe wait and borrow, or buy one second-hand to reduce the cost.
Rocking Chair/Glider
You could be spending a lot of time here, depending on how you're feeding your babe. It could be worth the investment for a comfy one, but don't forget some babies spit up – a lot!