Superdad is real.
He doesn't go by Clark Kent, though. He goes by Dan Gibson and he's the father of 4 children (3 being young triplets). After putting videos up of him getting his brood ready for bed and getting ready for the car went viral, Gibson and his wife, Corrie, aren't slowing down with their Baby Gang. We caught up with Dan to talk blogging success, life with 4 little ones, and who has the quickest time for putting the kids to bed.
So, putting four kids (whom are all under 2) to bed is the easiest thing going, right? You beat your wife's record?
It was easy, difficult and a super fun challenge… everything a dad needs in their life. Of course I beat mom's time, some say I may have cheated because I used zipper onesies while mom used button-ups, but everyone knows dad's work smart, not hard! Especially this dad!
The Baby Gang got 340,000 fans in a year. What was the impetus for the Baby Gang?
You know the growth of our channel really only started in February. I started The Baby Gang page back in Nov. 2015 to make it easier to share with friends and family as well as strangers, because what inspired me was all of the attention we caught while going out in public. It was truly amazing to see the joy and happiness our children brought to the world around them. With our fanbase growing, we are still in shock on a day-to-day basis with the amount of reach to people around the world. Our goal was to grow the channel, but never had any set number, goal or any motive to achieve that growth. We were happy to create our own fun and cute content and just enjoyed sharing with our friends, family and anyone who took
With our fanbase growing, we are still in shock on a day-to-day basis with the amount of reach to people around the world. Our goal was to grow the channel, but never had any set number, goal or any motive to achieve that growth. We were happy to create our own fun and cute content and just enjoyed sharing with our friends, family and anyone who took interest in sharing these wonderful memories and experiences with us. To see our channel continue to grow has us in complete awe and we love our Baby Gangers! They are the best.
Tell us a little bit more about your gang.
So, Emily is our oldest daughter, she is also the superstar in both videos in which my wife and I are changing the babies. I could not say enough about her. She is just the sweetest little girl, full of kindness, love, happiness and being in her 2-year independent stage… attitude!
To put it simply, my kids represent everything that is good about me and I could not be more proud to be a father to this amazing gang. My Baby Gang.
Jackson, Olivia and Levi are the triplets born in the order once known as A, B and C (we will get to that later). Jackson and Levi are identical twins, while Olivia is the singleton—but it is crazy at how similar in looks they are. Although they are triplets, from day one it was stunning to see their similarities but also amazing to find their differences. We are a very busy household with so much chaos and although parenting may not always be the easiest thing to do, it is the most rewarding thing in life.
Finish this sentence: Being a dad to four children is…
Amazing! At one point in my life I could not imagine being a dad, a young dad. Now I can't picture my life not being a dad. It is super rewarding and really helps you appreciate the much smaller things in life. One thing about fatherhood, or even parenthood in general, is that happiness is always within reach. With long tiring days, long nights and hard work at the end of the day, it is all about attitude!
There are thousands of mommy bloggers out there. What's it like being a dad blogger and being a positive role model for other dads?
You know, I want to shoutout to all the mommy bloggers out there. They inspire me every day with their stories and experiences. My wife Corrie is an amazing parent and mom and I cannot stress that enough. She has taken blogging a lot more serious, and has connected really well with people in sharing her experiences. Being a dad blogger is still all new to me, but too much fun! Although my primary focus is video-logging or doing fun video edits, my goal is to share true genuine experiences with parents that just about anyone can relate to. Mommy bloggers significantly outnumber the dad bloggers and we need to change that!
A huge shoutout goes to all the dads that put in the best efforts to be the best father and inspiration they can be to their children.
Do you have tricks for remembering each triplet's name? Or is just kid A, B and C?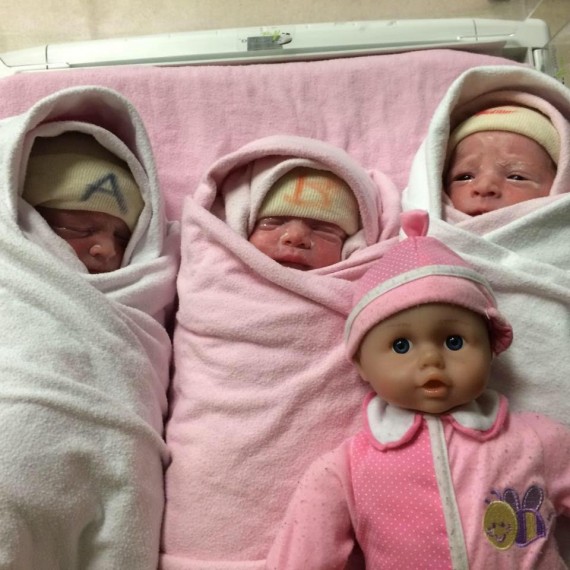 At one point they were A, B and C, becuase that is what the nurses put on their hats! But we knew from the day we found out their genders that it was going to be Jackson, Olivia and Levi. We were so paranoid that we were going to mix them up. It isn't like you can mix your multiples up and take them back to the hospital to tell you who is who. So we left Jackson's hospital tag on for the longest time and although we felt confident of who each baby was, it was something that we took with extra precaution.
Olivia, being the singleton, has always been easy to recognize. Now that the boys are getting older, they are looking more and more identical. So there are small features between each baby that helps us tell their differences. Jackson has a small mucous cysts in his mouth it is very small and nothing serious, but when he smiles we can tell right away it is him. Also, the boys have a minor difference in their hairline. Levi doesn't have as much as a cowlick as Jackson does.
What's your biggest tip for parents of twins or triplets?
Honestly, my biggest tip is to just take things day by day, hour by hour or even minute by minute. Things will no doubt become very hectic and can go from 0 to 100 in no time! Just remember you are only one person (as individuals) and can only do so much at one time. It is important you keep a great attitude and show that you want to be there for your babies.
If you take your parenting serious and are doing your best to be the best possible mom or dad and influential role model to your children… you are super mom! You are super dad! You are super parents!
What's the most common thing that parents say to you when they realize you have 4 kids?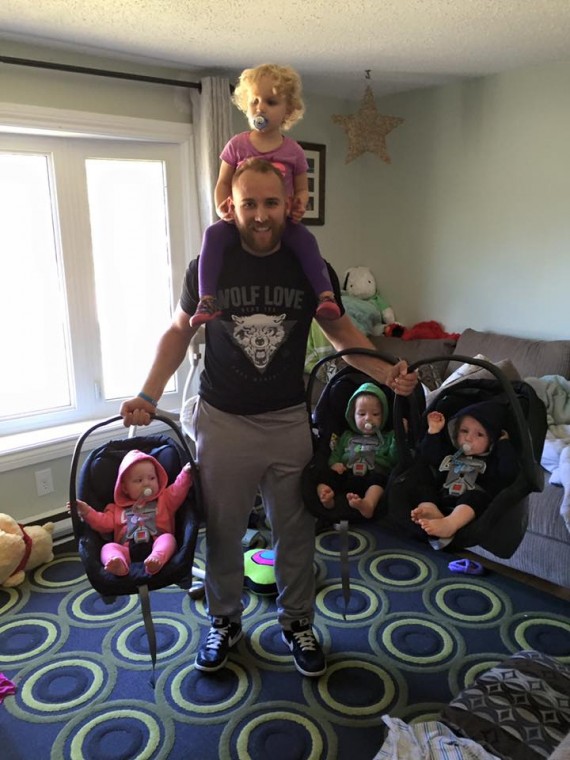 Hands down the number one thing we hear is: "My you sure do have your hands full." I tell you, if I had a nickel for every time my wife and I heard this saying I think we would have enough for their education fund and then some!
What does the future hold for the Baby Gang?
Countless opportunities. We are a normal family, and are happy to share our experiences and memories with everyone. We want to continue to deliver fun and cute content that all parents can relate to. Our goal is to build our Baby Gang brand and just run with all these wonderful opportunities. We are really trying to save for their education!
Anything you'd like to add, Dan?
Thank you for this exciting feature on the Parent Life Network. We want to thank everyone who sends us genuine love and supports us! We are truly grateful to share these wonderful experiences that turn into beautiful memories with you! I also want to add that we are normal parents just like everyone else, and by no means because of the success we have had with our social networks do we think we are better than anyone else, especially when it comes to parenting. Each day offers new experiences filled with adventure and fun.
Follow the Baby Gang and their adventures at www.thebabygang.ca.
Ed. Note. Know of some awesome parents? Tell us about them in the comments. We might do a story on them next!