The most important essentials for baby can't be found in a store.
Sponsored in part by CIBC Life Insurance
When it comes to getting ready for the arrival of your baby, most parents have a pretty good idea of what they need to do to prepare. From picking out the perfect crib to deciding on a nursery theme to trying to figure out how to install the car seat correctly, it's no wonder those nine months fly by in a flash!
Here at PLN, we want to make sure you have everything that's essential for your baby-to-be, even if it doesn't come in a pretty package from your favourite baby store. These days, your mind might be consumed with that adorable crib bumper you saw on Pinterest, but it's also the perfect time to start thinking about those unpinnable must-haves so you can be prepared, no matter what life throws your way. Whether it's drafting a will, signing up for life insurance, or scheduling your baby's first doctor appointment, these are the important tasks that'll help ensure your new baby is set up for a bright, healthy, and happy future.
Who knows? It might just help you sleep a little better at night. (Although, if you have a newborn, we're not making any promises!)
Where there's a will, there's a way
No one wants to consider the unthinkable, but knowing your child will have financial protection in the event that something happens to you is worth having some difficult discussions. The good news is that making a will is not overly expensive (can range from $400 to $1,000 for a basic will) and, with a good lawyer, the process can be fairly straightforward. Be sure to consider the following:
• Who will you name as your child(ren)'s guardian? You may want to consider a person who has similar values and beliefs. Appointing a guardian ensures that you are making the choice of where your child(ren) are placed if you were to pass away—rather than the court deciding.
• Who would take care of your finances and healthcare wishes? You would need to appoint an executor and one or two power of attorneys (they will act on your behalf if you become incapacitated). They do things like pay your debts and close your accounts.
Once you've completed your will, it's advisable to place it in a secure location, such as a safety deposit box, and update it regularly as your family or wishes change.
Bank on it
Every family hopes for a healthy baby, but the reality is, not every new parent will be lucky enough to have one. Fortunately, the human body comes with a built-in backup plan that doctors and scientists are harnessing to help little ones who need it: stem-cell-rich umbilical-cord blood. This amazing resource can be collected at birth, then stored and saved in case your baby falls ill. While cord blood can't guarantee against all diseases, stem-cells from cord blood can help treat certain types of cancers, autoimmune diseases, and genetic conditions, such as sickle cell anaemia.
While all private cord blood banks must adhere to Health Canada's standards, practices will differ from company to company, and you should always research which one fits your family's budget and needs. Costs will vary as well, but you can expect initial fees between $1,400 and $2,300, and an annual storage fee ranging from $115 and $235.
To have and to hold

A will provides your child with a caregiver, but, unless you have ample savings beyond your RESP and RRSP, you also should consider other means of financial support. A life insurance policy is one way to help guarantee your child's financial well-being if a tragedy were ever to befall you or your partner. The proceeds can be used to help provide a similar level of security and comfort (even if you're unable to provide it yourself).
Best of all? Thanks to the internet, applying for some life insurance products has never been easier—or faster. Make use of online calculators to help figure out the right coverage for your budget and needs, complete an application online and find out if you are approved or not within minutes after you click submit. It can be a hassle-free process that's essential to know that your child has some protection—no matter what the future holds.
Parent Life Network Chance to Win $2,500 Head Start Giveaway*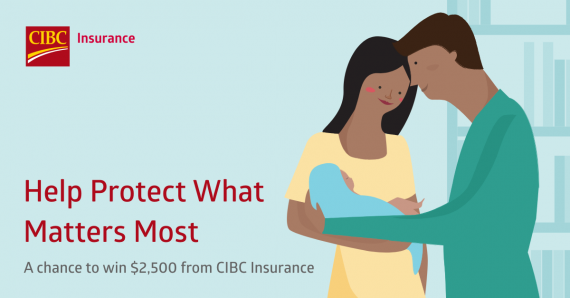 The responsibilities of parenthood can seem overwhelming at times, but taking a moment to help protect your family's future will give you peace of mind. PLN wants to give your family's future a boost with a Parent Life Network Chance to Win $2,500 Head Start Giveaway*. Enter for your chance to win* a $2,500 nest egg for you and your family to start building a great future!
*NO PURCHASE NECESSARY. Open February 28, 2018 to June 15, 2018 to legal residents of Canada 18+.  One prize available: $2,500.  Odds of winning depend on number of eligible entries received. Math skill test and internet access required. Full Contest Rules.

CIBC Term Life Insurance, underwritten by CIBC Life Insurance Company Limited, helps provide financial protection for you and your loved ones by taking care of your tomorrow, today. With CIBC Term Life Insurance, you can easily set up a plan to help protect your loved ones quickly and easily. Choose the coverage you need, set the amount, and apply online—you may be approved the same day. Like magic, your excuses for not getting life insurance have disappeared. Find out more by clicking here.